Flat Roof Coating System
Final Flat Roof (FFR-K1) is the only 1-part, Kevlar® infused, polymeric membrane roofing coating system. It can be installed over any existing flat roof and extend its life for up to 20 years. FFR-K1 contains 3 proprietary chemicals and additives that enable our coating to be installed under water, if necessary. FFR-K1's thermo-resistance barrier performs similar to R-19 insulation. From the sub-freezing climate of the arctic oil fields, to the extreme desert conditions of Kuwait, FFR-K1 has performed to the highest standards.
A Most Amazing Product!
FFR-K1's highly reflective membrane will provide you with energy savings of up to 40% and a maintenance free roof for up to 20 years! Additionally, repairing your roof with FFR-K1 will save you up to 50% as compared to replacing your existing roof! Learn how FFR-K1 reduced the Port Authority of NY/NJ's cooling costs by over 27%! Click Here to read more...
FFR-K1 Fact Advantages and Benefits
• Single component, no mixing
• Adheres even to damp surfaces without priming
• Withstands ponding water
• Retains flexibility in sub zero conditions
• Withstands damage from most chemicals and severe environments
• Highly thixotropic allowing for ease of application
• Surface temperature will not exceed 10ºF above ambient
• High Albedo reduces heat and lowers energy cost
• Low sag minimizing dripping
• Kevlar reinforced (525,000 psi)
• Rain will not destroy coating during application
• Saves you from expensive roof removal and disposal cost
• Cellulous bond to concrete and wood
• 100% adhesion of product to substrate
• 20 year warranty available for roofs
Final Flat Roof (FFR) ™
is the only flat roof coating you will need for all of your roof repairs and will extend the life of your existing flat roof by up to 20 years! Please call us today for your free flat roof repair analysis.
866-637-7663
Contact Us
Have one of our professional Flat Roof consultants contact you about FFR-K1, the best roof coating system.
FFR-K1 Videos
See how Final Flat Roof (FFR-K1) ™ can be applied on a flat roof with standing water!
View our Interview with Donald Trump Jr.
More Videos
Emergency Flat Roof Repair
FFR-K1 Installed on a WET ROOF!
Latest Project
The Historic Gwynne Building, Cincinnati, OH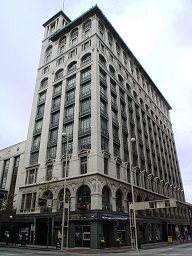 Final Flat Roof sealed multiple roofs on this historic building, eliminating all leaks!
Testimonials
""My business is under a 13,000 square foot modified flat roof. I have struggled with leaks in my roof almost every year. Apex installed a product (FFR-K1), that sealed the area immediatly. After six months it still looks perfect, and the roof is not leaking. I am not going to waste my money on temporary tar patches which always start leaking. The staff at Apex delivered a solution, (FFR-K1), to my long-term leaking problem and I plan to use them when the other areas of my roof begin to leak.""