Please contact us now at (866) 637-7663 and let us help you with your flat roof or complete
the information below to have a Final Flat Roof representative contact you.


FFR-K1 Videos
See how Final Flat Roof (FFR-K1) ™ can be applied on a flat roof with standing water!
View our Interview with Donald Trump Jr.
More Videos
Emergency Flat Roof Repair
FFR-K1 Installed on a WET ROOF!
Latest Project
The Historic Gwynne Building, Cincinnati, OH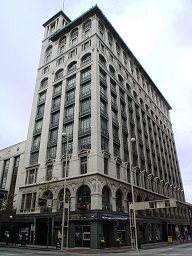 Final Flat Roof sealed multiple roofs on this historic building, eliminating all leaks!
Testimonials
""My business is under a 13,000 square foot modified flat roof. I have struggled with leaks in my roof almost every year. Apex installed a product (FFR-K1), that sealed the area immediatly. After six months it still looks perfect, and the roof is not leaking. I am not going to waste my money on temporary tar patches which always start leaking. The staff at Apex delivered a solution, (FFR-K1), to my long-term leaking problem and I plan to use them when the other areas of my roof begin to leak.""